Surviving Russian crew member of downed jet is rescued in 12-hour mission and says there were no warnings
Turkish military releases recording of warning to Russian jet
The Turkish military has released what it says is an audio recording of a warning it gave to a Russian fighter jet before the aircraft was shot down near the Syrian border, hours after the surviving Russian crew member insisted there had been no contact.
A voice on the Turkish recording can be heard saying "change your heading". But Konstantin Murakhtin, a navigator who was rescued in a joint operation by Syrian and Russian commandos, told Russian media: "There were no warnings, either by radio or visually. There was no contact whatsoever."
He also denied entering Turkish airspace. "I could see perfectly on the map and on the ground where the border was and where we were. There was no danger of entering Turkey," he said.
The apparent hardening of both countries' versions of events came as Russian warplanes carried out heavy raids in Syria's northern Latakia province, where the plane came down. Tuesday's incident – the first time a Nato member state has shot down a Russian warplane since the Korean war – risks provoking a clash over the ongoing conflict in Syria, where Russia has intervened to prop up the regime of Bashar al-Assad.
A Turkish official said his country stood by its version of events. The Turkish military has said it delivered multiple warnings to the plane as it neared the border and shot it down after it entered the southern province of Hatay. "We shared concrete evidence of airspace violation with relevant international bodies," the official said. "From where we stand, there's nothing to discuss."
Russian officials said earlier that Murakhtin, one of two airmen who ejected from the downed Su-24, was "alive and well" after a 12-hour rescue operation succeeded. The second airman was killed by gunfire from the ground, apparently from Syrian Turkmen fighters.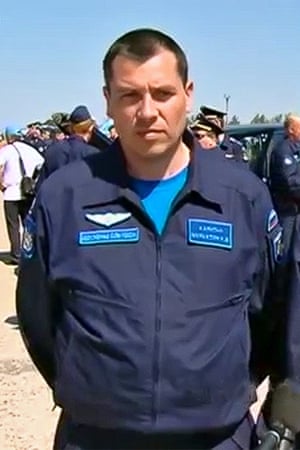 The Russian agency LifeNews said Murakhtin was found by an 18-man Syrian special forces team acting together with six members of an elite Hezbollah unit. It said he had hidden for many hours after landing, and was found by a radio signal.
A military source from the Syrian government said: "Special operations units from the Syrian Arab army conducted last night a special operation in which it penetrated areas where the terrorists are present and was able to rescue one of the pilots of the Russian plane."
Speaking on Russian television after his rescue, Murakhtin said he knew the area where his plane came down "like the back of my hand". He was receiving medical treatment and said he wanted to stay in Syria and continue flying missions.
The dead pilot was named by Russia as Lieutenant Colonel Oleg Peshkov. One of the rescue helicopters sent to search for the men was hit by rebel fire, forcing it to make an emergency landing. One of the marines on board, Alexander Pozynich, was killed.
Vladimir Putin, the Russian president, said Peshkov would be awarded the country's highest military honour, the Hero of Russia award. The Order of Courage would be awarded to Murakhtin and posthumously to Pozynich.
Russia has repeatedly said its plane did not enter Turkish airspace. On Tuesday Putin said the downing of the plane was a "stab in the back by the accomplices of terrorists" and promised "serious consequences".
Turkey said the plane entered its airspace for 17 seconds, in what it said was the latest in a string of provocative attacks on Ankara-backed Turkmen fighters close to the Turkish border. Last Friday the Turkish foreign ministry summoned Russia's ambassador to complain about the incursions.
Russian warplane: radar track

The attack looked like a "pre-planned provocation", and even if Turkish claims that the plane had strayed into Turkish airspace proved to be correct, there were no grounds for shooting it down. ~ Russian Foreign Minister Sergei Lavrov
The Turkish president, Recep Tayyip Erdoğan, repeated his insistence that the Russian jet was in Turkish airspace when it was shot down and said parts of the wreckage fell into Turkey, injuring two people. Ankara had no wish to escalate the incident and was only defending "our own security and the rights of our brothers" in Syria, he said.
The Russian foreign minister, Sergei Lavrov, said he had spoken to his Turkish counterpart for around an hour on Wednesday. He said the attack looked like a "pre-planned provocation", and even if Turkish claims that the plane had strayed into Turkish airspace proved to be correct, there were no grounds for shooting it down.
Later, in a telephone call with John Kerry, the US secretary of state, Lavrov said Turkey's actions were a "gross violation" of an agreement between Moscow and Washington on air space safety over Syria. The state department said Kerry called for calm and more dialogue between Turkish and Russian officials.
In Moscow, a crowd of youths gathered outside the Turkish embassy and threw rocks. Some of the ground-floor windows in the building were broken. Police at the scene did not make arrests, according to witnesses.
Russian officials made it clear that despite the fury the reaction would be measured. There is no talk of a military response, and no suggestion that diplomatic relations could be cut or the Turkish ambassador expelled from Moscow. However, the tone of relations between the two countries is likely to change dramatically.
Lavrov cancelled a visit to Istanbul planned for Wednesday, and recommended Russian citizens not travel to Turkey because of the terrorist threat.
Russia's state tourism agency said it was banning all tour operators from offering holidays in Turkey. There has been no suggestion of cutting air links, but anysuch move would hurt the Turkish economy. About four million Russians a year visit Turkey, mainly for tourism.
A Russian foreign ministry spokeswoman, Maria Zakharova, hit out at the US state department official Mark Toner, who said the Turkmen fighters who shot the Russian airman as he parachuted to the ground could have been acting in self defence. "Remember these words, remember them forever. I will never forget them, I promise," Zakharova wrote on Facebook.
Also on Wednesday, Russia announced it would send its latest air-defence system, the S-400, to its base at Latakia to back up Russian air operations in Syria. The defence ministry has vowed to continue its strikes on Islamic State. Moscow says it is fighting Isis, but western capitals have said the majority of the strikes appear to be targeting other groups.
Syria: recent Russian airstrikes
Assad: Syrian troops advancing thanks to Russian airstrikes
By

ALBERT AJI and BASSEM MROUE

November 22, 2015 12:54 PM
DAMASCUS, Syria (AP) — Syrian President Bashar Assad says his forces are advancing on "almost" all fronts thanks to Russian airstrikes that began nearly two months ago and have tipped the balance in his favor in some parts of the country.
In remarks published Sunday, Assad told China's Phoenix Television that the Russians depend on Syrian ground forces and "cooperate with us." He added that Syrian troops had achieved victories in some areas before the strikes began but "could not be present everywhere in Syria."
Russia, which has conducted an air campaign in Syria since Sept. 30, sharply raised its intensity in recent days on President Vladimir Putin's orders after Moscow said it had confirmed that a bomb brought down a Russian plane over Egypt's Sinai Peninsula, killing all 224 people on board.
The Islamic State group claimed responsibility for the attack.
"Following the participation of Russian air force in fighting terrorism, the situation improved well. I can say that the army now is advancing almost on every front," Assad said in the interview, which was also carried by Syrian state media.
Assad said the Russian airstrikes are more effective than those of the U.S.-led coalition because Moscow is coordinating with his government, saying "you cannot fight terrorism with airstrikes alone."
Syrian troops have captured dozens of villages in northern and western Syria since the Russian airstrikes began. Their biggest victory so far has been lifting a three-year siege imposed on the military air base of Kweiras by extremist groups in the northern province of Aleppo.
The Russian strikes have not only targeted the Islamic State group, but also Syrian insurgents battling to overthrow Assad, including some Western-backed groups.
Asked if he is going to run for president again if early elections are held, Assad said: "It is my right but it is early to say whether I will run or not." He added that "I will not say that I will not run if I see that this is needed."
A peace plan agreed to last weekend by 17 nations meeting in Vienna says nothing about Assad's future, but states that "free and fair elections would be held pursuant to the new constitution within 18 months."
To clarify the timeline, the U.S. State Department said last week that the clock starts once Assad's representatives and opposition figures begin talks on a constitution. The vote would determine a new parliament, though not necessarily a new president.
More than 250,000 people have been killed since the start of Syria's 2011 uprising, which began as a series of mostly peaceful protests but escalated into an armed revolt against Assad after a harsh government crackdown. Syrian rebels have demanded that Assad step down as part of any agreement to end the fighting.
On Sunday, a motorcycle rigged with explosives blew up in the northern Syrian town of Tal Abyad near the Turkish border, killing at least two people and wounding more than 20, according to the Britain-based Syrian Observatory for Human Rights and the Local Coordination Committees. The two groups track Syria's civil war based on reports from activists inside the country.
Kurdish fighters captured Tal Abyad from IS militants in July.
The Observatory said Sunday that airstrikes believed to be carried out by Russian warplanes have struck near oil fields in the eastern province of Deir el-Zour. Moscow last week announced the targeting of oil facilities and tanker trucks to try and deprive IS of one of its main sources of income.
In the central province of Hama, meanwhile, the militant Jund al-Aqsa group handed over the bodies of 30 Syrian soldiers in exchange for six female prisoners held by Syrian authorities, according to the Observatory and opposition activist Hadi Abdallah.
Abdallah posted a video on his Facebook page showing the exchange, which was carried out by the Syrian Arab Red Crescent.
Mroue reported from Beirut.
Rebels kill Russia pilot, down chopper: Syria opposition, monitor
One Russian pilot of a warplane downed by Turkey in Syria on Tuesday was killed by rebels and the second is missing after they both parachuted, rebel and opposition sources said. A Russian helicopter was also blown up by rebels following an emergency landing in the Syrian government-held territory…
Russia accuses Turkey of 'provocation' as pilot denies warning
Russia on Wednesday accused Turkey of a "planned provocation" over the downing of a warplane on the Syrian border as a rescued pilot claimed that no warning had been given. As the diplomatic fallout from Tuesday's incident raged on, Ankara sought to play down tensions and its allies in NATO issued…
Moscow and the west are still at odds over whether Assad is part of the problem or the solution to the Syrian crisis. The French president, François Hollande, will travel to Moscow on Thursday for meetings with Putin to discuss coordinating action to fight Isis.
Activists said there were ongoing clashes on Wednesday in the northern Latakia countryside where the plane fell, as well as airstrikes by either Russian or Syrian warplanes. Jahed Ahmad, a spokesman for a rebel brigade in the region affiliated with the Free Syrian Army, said the Russians appeared to be taking revenge for the plane's downing by Turkey and were providing cover for advancing Syrian ground forces and their Lebanese Hezbollah allies.
The area has long been a flashpoint of battles between the Syrian government and an alliance of rebels that includes Jabhat al-Nusra, al-Qaida's wing in Syria. The region straddles the Syrian-Turkish border that separates Latakia and Hatay in southern Turkey. The city of Latakia is one of the Assad regime's redoubts and a key part of its sphere of control in western Syria.